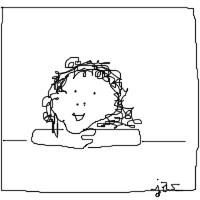 In the category of "close but no cigar," I received news two days ago that I have received an Honorable Mention in the 44th New Millennium Writing Awards for my flash fiction, "In Our Country."  This, I was told, meant that the story "beat out 90% of the competition."  New Millennium will not be publishing the story, but it is gratifying to have received the honorable mention and also to know where it stood amongst the many entries.
I don't submit work to publications or contests nearly as much as I should.  I believe that this is a function of the fact that I spend so much time working on novels and so have less in the way of smaller pieces that can be submitted.  But I think I also tend to second guess whether the shorter fiction I do complete is ready, as well as where to send it.  This is something many writers tend to do.
All of these "close but no cigars" that I have received over the years, when compared with the degree to which I send work out, should encourage me to send out more, and more often.  But, I tend to write pieces that don't fit into standard genres, and I think one of the things that stops me is trying to figure out where my work fits. Perhaps I need to follow the advice of a writer I met during my Prague Summer Seminar sojourn.  She had won a number of contests, including a fellowship to that program.  Her view was:  you write what you write, you send what you send and they take what they take.  In other words, also hers, if I remember correctly–even though they tell you to, don't spend lots of time trying to figure out what kind of work a publication takes.  Just send, send, send.